Parent & Teacher Organization
The Sunrise PTO includes you and all Sunrise parents. Your efforts to support, organize, and conduct activities and programs that enhance our children's education make a great impact on our school and on our students.
The Sunrise PTO sponsors and supports a wide variety of school projects, events, and activities—and there is a place for you whatever you're unique talents and interests may be. Sunrise PTO efforts have provided many benefits for our students. Be sure to watch for information concerning the monthly meeting times and dates. We also schedule student recognition and presentations on school issues. We invite you to attend the Sunrise PTO meetings and to participate in our projects. Please come and share your ideas, thoughts, and concerns. We welcome and need your participation!
PTO News
For those who may not know, the PTO is an organization of parents and teachers of Sunrise Elementary. The PTO's goal is to foster a nurturing and caring environment that strives for continued parent involvement in helping build a better educational environment for our children. We also promote a school community where teachers and administrators can do their best work and help make school fun with the resources we can provide. Through donations and fundraising efforts, the PTO donates funds to purchase educational materials and equipment for the school as well as plan fun and exciting events for our students. We are always in need of volunteers! The opportunities for involvement are numerous! We look forward to meeting you.
Our meetings are on the second Wednesday of each month at 6:00 p.m. in the library. We hope to see you there!
Scan Your Box Tops!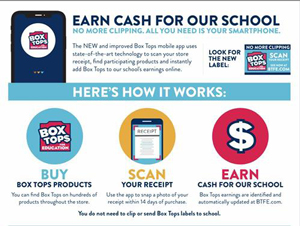 Earn cash for our school! No more clipping; all you need is your smartphone. The PTO is collecting Box Tops earnings to raise money for our school. The new and improved Box Tops mobile app uses state-of-the-art technology to scan your store receipt, find participation products, and instantly add Box Tops to our school's earnings online. Look for the new Box Tops label on the hundreds of products throughout the store. Then use the app to snap a photo of your receipt within 14 days of purchase. Your Box Tops earnings will then automatically update at the Box Tops for Education website. You do not need to clip or send Box Tops labels to school!
PTO Officers
President: Taylor Warner
Vice President: TBD
Treasurer: Mayra Diaz Bonales
Secretary: Veronica Harrison
Contact Us
Email: Sunrisescorpionspto@gmail.com
Phone: (928) 502-8800
Facebook